Thursday. 4.3.08 1:57 am
Kilusan Pilipino presents its 12th Annual Pilipino Cultural Night: Mano Po
Sunday, April 13, 2008
Time
:1PM and 5PM
Location
:Faye Spanos Concert Hall - University of the Pacific
3601 Pacific Avenue
Stockton, CA 95211
Tickets: ASUOP
student
presale ($5)
Presale ($10)
At the door ($12)
Children 2 and Under (free)
We will be performing folk and modern dances, songs, and some acting. Sorry that sentence just now doesn't make sense...but you get the idea, right?
Contact Email for Questions:
pacifickilusan@gmail.com
EDIT//
If that's not enough to get you to come, then here are samples of our fliers.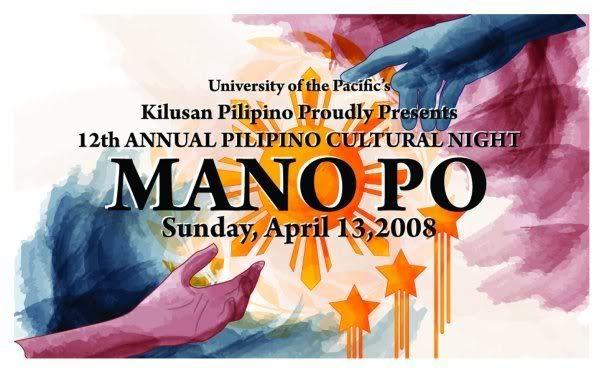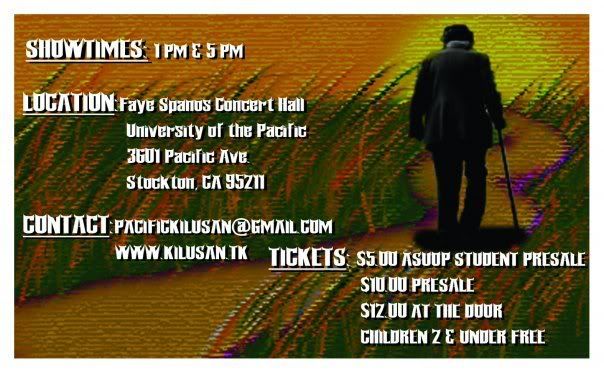 Categories: Philippines [t], Pilipino [t], Cultural [t], Night [t], Filipino [t], PCN [t], University [t], of [t], the [t], Pacific [t], Stockton [t], California [t], woot [t], awesome [t], stuff [t], eh [t], tired [t], food [t]
ucsd goes by the quarter system, so spring quarter just started this past monday and finals week is june 9-13
i just read a 34098435pg article and i dont know WHAT i read... >.< school sucks. lol
have fun sleeping on the floor.. hope u dont get stepped on! :P
»
tiffany
on 2008-04-03 02:38:47
oh. and i would SO go to cultural night if i was rich and had a private jet :)
»
tiffany
on 2008-04-03 02:39:56
Is it alright if I parachute in?
»
The-Muffin-Man
on 2008-04-03 07:01:09
Yeah...
...I think parachuting is my only option, because I'll definitely need to be taking a plane down to Cali.
Ahh that's so sweet, getting to perform at a gig with the JabbawockeeZ. Do you know where it's being hosted, by chance? There's a 1/16007 chance that it'll be close enough for me to go , but you never know....
»
The-Muffin-Man
on 2008-04-04 04:12:19
Sorry, you do not have permission to comment.
If you are a member, try logging in again or accessing this page here.